Source: U.S. Energy Information Administration, Petroleum Supply Monthly
Note: Gasoline exports include combined exports of finished motor gasoline and motor gasoline blending components.
---
Motor gasoline exports from the United States reached record highs in May, June, and July for each of these months, according to our Petroleum Supply Monthly (PSM). Summer exports in May, June, and July reflect a departure from the historical seasonality of gasoline exports because gasoline export levels are usually low during the summer.
OCT 7, 2021
---
In our International Energy Outlook 2021 (IEO2021) Reference case, we project that, absent significant changes in policy or technology, global energy consumption will increase nearly 50% over the next 30 years. Although petroleum and other liquid fuels will remain the world's largest energy source in 2050, renewable energy sources, which include solar and wind, will grow to nearly the same level.
OCT 6, 2021
---
Today we released our International Energy Outlook 2021 (IEO2021). In the IEO2021 Reference case, which assumes current laws and regulations, we project that strong economic growth and growing populations will drive increases in global energy-related carbon dioxide emissions and energy consumption through 2050. Much of the increase in energy consumption will be met with liquid fuels and renewable energy sources. Natural gas- and coal-fired generation technologies as well as the emerging use of batteries will also prompt increased consumption.
OCT 5, 2021
Source: Graph by the U.S. Energy Information Administration, based on data from Global Trade Tracker
---
In June of this year, China implemented a new consumption tax policy that affects imports of two fuels: mixed aromatics, which were blended into gasoline, and light cycle oil, which was blended into diesel. These components were previously exempt from China's consumption tax. This new policy has reduced China's imports of these products and its exports of petroleum products.
OCT 4, 2021
---
According to our 2018 Commercial Buildings Energy Consumption Survey (CBECS), LED lightbulbs had become the second-most common type of lightbulb in commercial buildings. LED bulbs were reported in 9% of commercial buildings in 2012, but they were reported in 44% of commercial buildings in 2018. The prevalence of all other bulb types decreased between 2012 and 2018.
OCT 1, 2021
---
Daily capacity outages at U.S nuclear power plants averaged 3.1 gigawatts (GW) during the summer of 2021 (June 1 through August 31), 22% less than the 4.0 GW average in summer 2020. Nuclear capacity outages were lowest in August, when they averaged 1.7 GW for the month.
SEP 30, 2021
Source: Graph by the U.S. Energy Information Administration, based on data from Evaluate Energy
---
Among 54 publicly traded crude oil producing companies, natural gas revenue accounted for 14% of total revenue in the first-quarter 2021. That percentage is the highest share among these oil-producing companies since at least 2018. The share of revenue associated with natural gas among these companies decreased to 10% during the second quarter of 2021, but it could remain relatively high as natural gas prices continue to increase.
SEP 29, 2021
---
Of the 14.5 gigawatts (GW) of battery storage power capacity planned to come online in the United States from 2021 to 2024, 9.4 GW (63%) will be co-located with a solar photovoltaic (PV) power plant, based on data reported to us and published in our Annual Electric Generator Report. Another 1.3 GW of battery storage will be co-located at sites with wind turbines or fossil fuel-fired generators, such as natural gas-fired plants. The remaining 4.0 GW of planned battery storage will be located at standalone sites.
SEP 28, 2021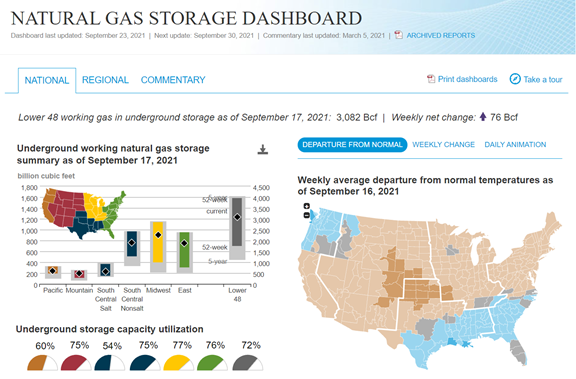 ---
Our Natural Gas Storage Dashboard provides daily and weekly contextual information to the Weekly Natural Gas Storage Report (WNGSR), which features our latest weekly natural gas storage estimates. The dashboard shows storage activity in several regions of the Lower 48 states and key market fundamentals that affect underground natural gas storage activity.
SEP 27, 2021
Source: 
Graph by the U.S. Energy Information Administration, based on 
data from Refinitiv
, an LSEG business
---
Since mid-September 2020, wholesale propane prices at Mont Belvieu, Texas, the main U.S. hydrocarbon gas liquids (HGL) hub, increased to an average of $1.33 per gallon (gal) during the week ending September 24, 2021, the highest weekly average since February 2014. Wholesale propane prices have increased because of high international demand and low global propane supply. The United States exported an average of 1.3 million barrels per day (b/d) of propane in the first half of 2021, 100,000 b/d more than in the first half of 2020, despite relatively flat production and domestic consumption.