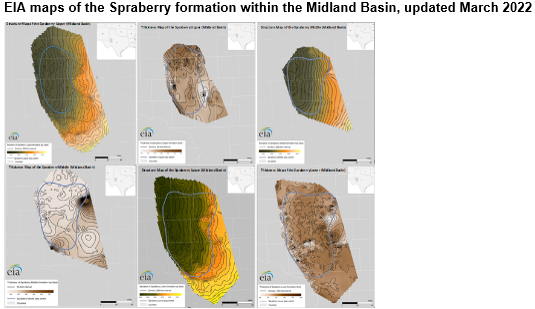 Data source: U.S. Energy Information Administration, Permian Basin: Part II
Note: See full-size images, starting from top left: 1, 2, 3, 4, 5, 6
---
We have updated our maps and geologic information for the Spraberry formation in the Midland Basin, which continues to be one of the most prolific areas for hydrocarbon production in the United States. The formation spans 16 counties in western Texas, which is the eastern part of the larger Permian Basin. In April 2022, daily average production from the Spraberry formation exceeded 1.3 million barrels of crude oil and 2.2 billion cubic feet of natural gas. We expect Spraberry production to continue to drive hydrocarbon production growth in the Permian Basin.
The measured depth of the Spraberry formation's ranges from 2,000 feet to 7,000 feet, and the formation's thickness varies between 1,200 feet and 3,000 feet. The Spraberry formation consists of a series of organic-rich shales interbedded with fine-grained sandstone, siltstone, and carbonateThe Spraberry formation is divided into three intervals, or benches: the Spraberry Upper, Spraberry Middle, and Spraberry Lower. Both Spraberry Upper and Lower benches are composed of fine-grained silty sandstone with intermitted silty shale. The Spraberry Middle bench separates these two benches and consists of predominantly black shales and dark carbonates with minor sandstone. Spraberry rocks are characterized by very low porosity and permeability. The updated maps now include formation geology, deposition history, and reservoir properties.Data source: U.S. Energy Information Administration
---
Our illustrations show the top and bottom of the formations as 3-D surfaces. These illustrations can give an estimate of subsurface formation volumes and can help detect major geological features.
Large reserves of oil were discovered in the sandy layers of the Spraberry formation during the middle of the 20th century, and they were mostly depleted by the end of the 20th century. Spraberry production at that time primarily used vertical wells. Drilling vertically through the Spraberry formation and the Wolfcamp play across the Midland Basin resulted in commingled or mixed production from multiple Spraberry and Wolfcamp benches.
Hydraulic fracturing combined with horizontal drilling is an advanced technique of drilling for hydrocarbons that has considerably increased hydrocarbon production from the Spraberry formation over the past 11 years.
Principal contributors: Olga Popova, Gary Long
Tags: natural gas, shale, Texas, liquid fuels, oil/petroleum, states, map